PETPAD
Warming pad for veterinary surgery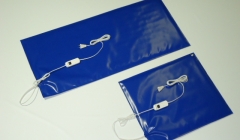 DESCRIPTION
PETPAD veterinary warming pad is especially designed for veterinary use: its out coating material is watertight and reinforced with fabrics in order to hold against animal scratches ; its main supply cable is protected with a plastic sleeve to hold against animal bites.
APPLICATIONS
During an anaesthesia, animal temperature is dropping down: temperature maintenance is vital to operation success to avoid difficult waking up, renal insufficiency, heart insufficiency, even in some cases animal's death.
PETPAD veterinary warming pad is designed to prevent animal from hypothermia as well during the operation (operation table warmer) as after the operation (waking up cage warmer).
ADVANTAGES
PETPAD veterinary warming pad has following characteristics:
resistant against scratches and bites,
watertight and washable,
smooth heat spreading,
dimensions complying with animal size: cats/dogs model and rats/mice model.
warmer).
ADVANTAGES
PETPAD veterinary warming pad has following characteristics:
CONTACT
For further enquiries on the Petpad, please contact our exclusive partner Mano Médical: http://www.manomedical.com/en